As an intelligent buyer what attract you most, one who is knocking down repeatedly for sale or one who is calmly explaining about his product/service and providing you tons of information without appealing to purchase even once.  That's the point exactly where inbound and Outbound differs with each other.
Outbound interrupts you, pushes you and persuade you to purchase through various ways such as cold-calling, direct paper mail, radio, TV advertisements, sales fliers, spam, telemarketing or traditional advertising. Inbound has no friction, earns the customer attention, makes company easily asses sable and bring interested customers through blogging, social media marketing, SEO, eBooks, pod casting, webinars, and other forms of content marketing.
With inbound, cost is effort and visibility continuous when efforts stop whereas with outbound, money equals to traffic, no money leads to no traffic. Based on major components, we are drawing a head to head comparison between both: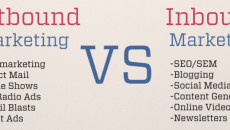 Increasing online visibility has changed people find, discover, share, shop, and connect.
a)     From an estimated 311 million population of US, almost ¾ approx 164 million are adult internet users.
b)    As per PEW research center whatever we were doing offline, now most of the things are online such as 75% seeking news online, 66% purchases online, 61% do social networking and 59% look for online support regarding how to do manual.
c)     86% people now skip TV ads, 46% decline in tech trade shows spending and 44% people never opened their direct company mails.
d)    Almost 1/3 of US consumers spend approx 3 hours daily becoming online.
Updated marketers are shifting their budgets away from interruption marketing.
a)     Increase in marketers investment: Inbound 61% // Outbound 14%.
b)    B2B marketers investment in marketing tactics: Inbound 63%// Outbound >30%.
c)     Upward trend in marketing budget is seen to be 54% for inbound activities.
d)    The portion of marketing budget allocated to social media and blogging has seen a jump of almost double from 2009 (9%)to 2011(17%).
   3.Traditional outbound marketing is less cost –effective when compared to inbound marketing.
a)     62% less average cost per lead: Inbound $ 373// Outbound $143.
b)    Inbound tactics not only generate leads but generate revenue in terms of customer: Blogs 57%, LinkedIn 57%, Facebook 48%, and twitter 42%.
c)     Lead –gen tactics is below average cost with inbound marketing as the channels used in Inbound are cost effective in compared to outbound channels.
The ample amount of stats can very well satisfy your query as to how beneficial inbound is for the accelerated growth of any business rather than risky and costly outbound tactics. Inbound can track the source of visitors and leads very closely and constantly measure upgraded performance  from sources like organic search, content syndication, social media , PPC and other inbound forces.