7.4 magnitude earthquake shock the entire north India (New delhi, Uttar Pradesh, Rajasthan, Bihar,). People felt the high jerk in after noon around 12:35 PM. All started to go out from their houses.
— NDTV (@ndtv) May 12, 2015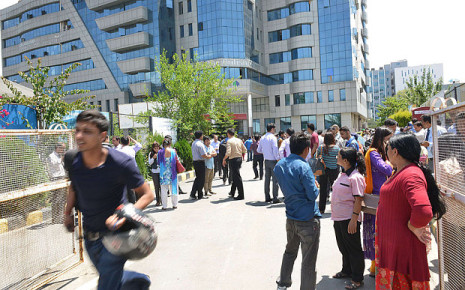 The center of the earthquake was same it was last time
New #NepalEarthquake – what we know so far http://t.co/GgAkD7fmdU pic.twitter.com/3ZW1JTURi4 — The Telegraph (@Telegraph) May 12, 2015
Afganisthan earthquake #6.4 magnitude strikes – Live #earthquakeindi
Footage from Kathmandu airport showed scenes of confusion as the ground shock.
Hundreds of people running of out of Kathmandu airport. Scary shaking from aftershock #NepalQuake pic.twitter.com/XiIdB0BCCS

— Jack Board (@JackBoard) May 12, 2015